Hi all,
today I successfully replaced the floppy drive in a FM-TOWNS Marty 2 console.As replacement I chose a Samsung SFD-321B FDD (REV. T3,WT-4 PCB revision) since it's very common and can be easily modified to 3-MODE support an therefore read/write 1.2MB formatted discs of this console.
The original FDD of the FM-TOWNS Marty console (1 and 2) is a EME-215FS manufactured by Matsushita with a 26PIN FFC connector (1.25mm of pitch), no info were available about so I first analized it and came to the conclusion that its pinout was the same of a slim 26PIN FDD for PC ( which comes with a FFC connector too but pitch is 1.00mm).And I was right since after building a small adapter from the 26PIN FFC connector (I took the one from the FDD itself) to 34PIN it worked fine, I coul read/write/format 1.2MB 3.5" discs on my console.
Here's a video I made (video output from console it's black and white since monitor cannot accept NTSC signal)
https://www.youtube.com/watch?v=Ol7c6G2 ... e=youtu.be
as well pictures of FDDs, adapter and signal analizing, etcc:
https://goo.gl/photos/amE2NXkxYDycW9k29
Well, now you will be thinking that using an HxC Floppy emulator instead the Samsung FDD would work straight so we can say bye bye to the original drive once for all.
The answer is no!
Sadly I can't get it working and the worst thing is that I can't understand why.
As I said, I simply adapted this pinout (pin 13 and 21 are GND too on Marty 2 FDD) :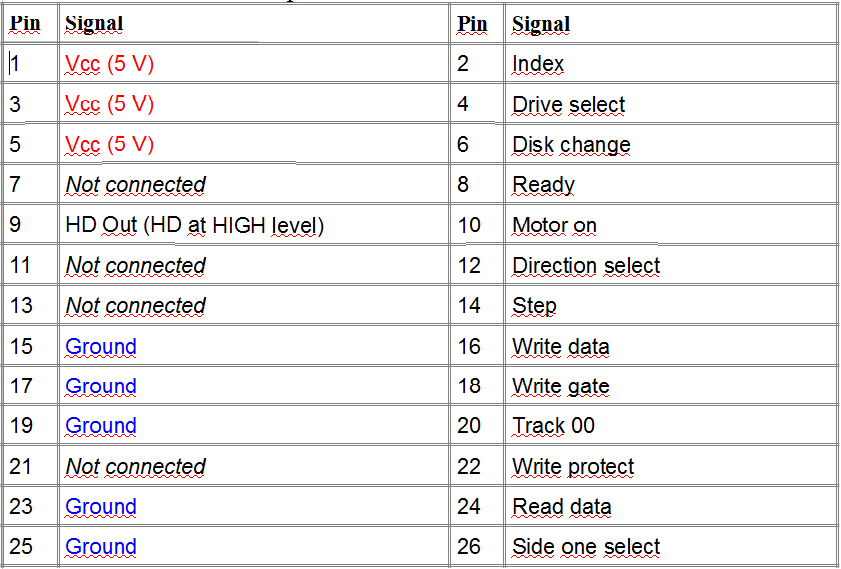 to the one of the Samung drive which matches the Shugart interface (after I routed READY signal to PIN 34 , see picture in my album)
host immagini
I connected pin 9 'HD OUT' of the Marty console to pin 2 'DENSITY' of the Samsung drive so I didn't use the 'DISC CHANGE' signal since, as I said, I put the READY signal on pin 34 of the Samsung FDD moving the 0 Ohm resistor from 'DC' to 'RDY' position.Obviously I connected the two MOTOR ON line(PIN10 to PIN16) but this is not needed for HxC since it doesn't use this signal
Well, when I use the SD HcX Floppy Emulator with this adapter, the track counting is stuck on '00' and YELLOW and RED LED stay always ON (see picture on my album).
I tried all possible options in the 'HXCSDFE.CFG' but without luck.
It must work since the Samsung SFD-321B is a common FDD, not special features or VFO circuit are present.
I think that with a bit of help we can figure this out and make people with this japanese console happy!
So, Jeff, pardon if I call you but shed light on this, please!