Hello guys and sorry for resurrecting a relatively old thread, I just wanted to share some info with you. Besides, it's still in the first page.
So, about that Atari ST floppy ribbon being soldered onto the board... I just took a look in that french page and started laughing. I mean, seriously...! That's ridiculous!
In any case, there are some things that you/we can do to remedy the situation. There are a few options, too!
Option 1: You want to use a plain floppy ribbon with two female connectors at the ends.
This is what you need:
IDC connector male
Now, all you have to do is to attach that onto the existing soldered ribbon of the ST, obviously before the connector at the end, paying a bit of attention to the orientation and polarity of the notch. Then, use a plain IDC crimp (please, for all things sacred, do NOT use a vice!) and squeeze the connector in place.
Now, you can use your plain ribbons to get the signals wherever.
Option 2: You don't want to touch the existing soldered ribbon.
This is what you need:
IDC connector male
Yup, it's the same as before. The only difference is that you don't attach it to the ribbon of the ST but on the *other* ribbon that you have. Get it as close to one end as possible, again be careful with the orientation and polarity, squeeze and once it's in place, get one of those very sharp blades and cut the last bit of the ribbon which still has the old female plug. Cables after the connector have a bad habit of bouncing signals.
Option 3: You don't want to touch neither the existing soldered ribbon of the ST, nor the other ribbon you have; it's your last one and you love it!
This is what you need:
IDC male to double pin header
This is a different thing, but it does the same job. You just attach this one to the end of the ST ribbon and then get one end of the loose ribbon you have and hook it onto the pin header. Done!
Option 4: You like option 3 but you don't like that wicked adapter thing.
This is what you need:
Double row two layer pin header
Alternatively:
Single row pin header connector
or
Single row pin header connector
That's essentially a stick of very long pins, held together with two pieces of plastic spacers instead of one. Usually these are used to connect PCBs together. The other option with the round ones is for IC sockets but it'll do the job as well. What you need to do is use these to connect the two female IDC connectors with each other. I don't think more explanations are needed.
Option 5: Haven't thought of one, you tell me if you do!
Now, isn't that much more pretty and pristine than some half-arsed pin headers soldered together? Besides, that french guy got that wrong too, since he could have soldered the pins back-to-back in a 1:1 fashion.
So... what would I prefer? Hm, I guess that depends on what I want to do. Generally speaking, I'd prefer the 2nd option and make a new ribbon that should look like this: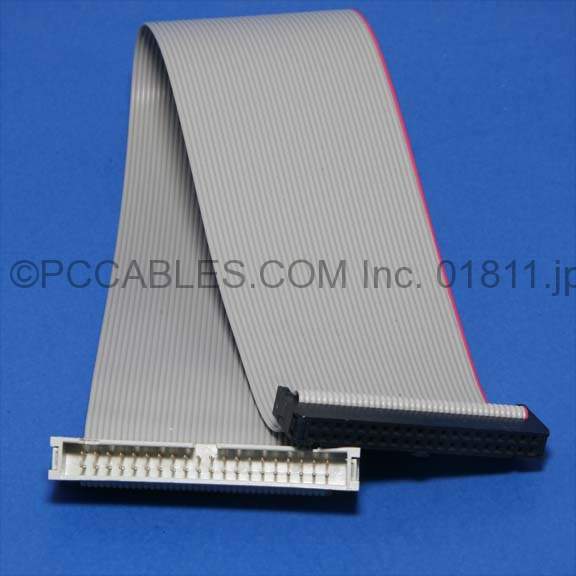 From then on, it's all simple. However, my personal preference would be to keep the internal floppy functional and connect the HxC (which I don't have) as an external unit. I've got Spectrums, Amstrads, Amigas, Atari STs, soon, if all goes well, even a SAM Coupe so I would have to keep the HxC mobile -- if I had one.
Cheers mates!